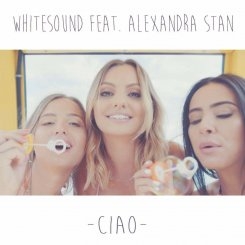 Whitesound feat. Alexandra Stan
Romania
Biography
For the new single "Ciao", the beautifulAlexandra Stan teamed up with the musical project Whitesound, initiated by Alexandru Unc and Alexandru Ispas.

It seems like the talent of the 3 artists, all going by the same surname of Alexandru, united and created the fun infusing single "Ciao" that was launched together with an energy boosting video. The images present a cheerful Alexandra having fun with her childhood friends, the girls clearly enjoying the last days of this year's summer holidays.

"There is always a place on earth where it's still summer and the sun has a special effect on us. We enjoy ourselves so much more in the sun. Through the video of "Ciao" we wanted to keep the summer vibe alive for as much as possible, especiallysince the temperature is on our side and the sun does not show any sings of getting tired to shine." says Alexandra in regards to this release.

Alexandru Unc declares that he's been working with Alexandra for a long time, as a drummer and percussionist and it's been a dream of his to release a song with her and one of his music projects: Whitesound or Mr. Gong. "We started working on achieving our desires and this is how "Ciao" saw the light of the day".

The song may say "Ciao" but it's definitely not addressed to the summer fun and memories!
Read More
Available for airplay now
Login
with your radio station account to listen and to download tracks from this artist.
Or
sign up for free
.