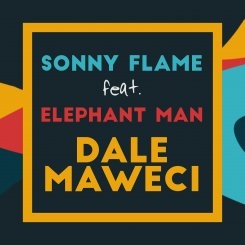 Sonny Flame & Elephant Man
Romania
Biography
A new wave of Jamaican rhythms is ready to take over the party playlists.

European music producer and artist Sonny Flame teamed up with Jamaican star Elephant Man and together came up with a hot new single "Dale Maweci".

The exotic single is an encoded message to party and have fun accompanied by the Jamaican flavour slang that gained Elephant Man household notoriety worldwide, assuring collaborations with artists such as Kat DeLuna, Diplo and Major Lazer.

Another highlight of his hits was reached in 2008 when during Usain Bolt's celebratory moment at the Beijing Olympic Games, when after winning the 200 sprint contest he danced his glory on the music of "The Gully Creeper", music by Elephant Man.

Sonny Flame is no stranger to putting his name out there and grabbing attention with his equally bold achievements. He started to write lyrics and compose rap and R&B style songs at 15 and was very quickly recognised as one of the most promising artists out there. His hits such as "Top Of The World" and "Jump Up" have been extremely popular with International playlists. Sonny was also part of the opening act for Ja Rule tour in Romania with his "Havana Lover" featuring in Morris hit. In 2012 the single "Sole el sol" enjoyed huge popularity in night clubs and online, and traveled all the way to Latino countries due to its Spanish enchanting lyrics.

His follow up hit "Babylon" managed to reach fast stardom and gathered over 7 millions views on YouTube and as many happy party people who danced all night inspired by the electrifying tunes. "Babylon" vibes infected the nightclubs as well as radio stations and kept fans dancing till dawn.

Sonny was really eager to work with Elephant Man, an artist whom he admired for years! The collaboration has been a dream come true for the artist who brings Flames of fun during the party time!
Read More
Available for airplay now
Login
with your radio station account to listen and to download tracks from this artist.
Or
sign up for free
.