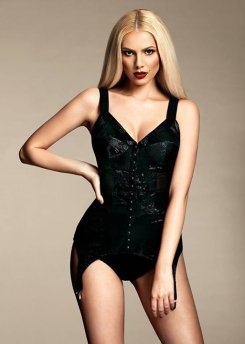 Biography
Sandra N. the voice from "ANGEL" feat. Adrian Sina, the voice from "I'M SORRY" -Akcent feat. Sandra N. and "BORACAY" feat. Akcent.

Sandra started her career since she was 4 years old, when she competed at a tv show for children. She continued studying music at a local School of Music. She represented her country in some music festivals in Europe (Turkey, Italy). She played piano and guitar and she composed songs and lyrics.
In 2006 she recorded her first pop album, with 10 songs which she sang in concerts. Sandra started having shows in her country. Also she had two dancers and she made her own coreography for her show.
In the same year she started taking canto-lesssons and recorded an album of international covers.
After many tv shows and concerts where she was well received by the audience, between 2011-2012 the songs "ANGEL" - Adrian Sina feat. Sandra N. and "I'M SORRY" - Akcent feat. Sandra N. were in the top of the national and international charts.
Read More
Available for airplay now
Login
with your radio station account to listen and to download tracks from this artist.
Or
sign up for free
.