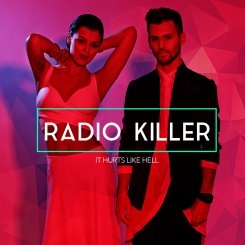 Biography
Released during the fall of 2009, Radio Killer is HaHaHa Production's first project, that managed to creatively conquer the Romanian and the international music industry thanks to the widely broadcasted singles, the fresh and dynamic sound.

The Radio Killer project was first announced through the successful "Who is Radio Killer?" campaign that aimed to present the seven secret producers linked to the project. The thrill around the campaign outlined a spectacular start for Radio Killer and, as a consequence, the project's first single, named "Voila", was the most broadcasted song in Romania and Russia in 2009, becoming a great hit in Ukraine, as well as in Turkey, Italy, Poland, France or in the Czech Republic. After winning the award for "Best new act" at the Romanian Music Awards, Radio Killer launched "Be free", which immediately entered the radio charts and got an extraordinary response from the public.

After two smashing singles, "Voila" and "Be free", Radio Killer changed its formula, by introducing Lee Heart, the new vocalist and Paul Pamixie, the DJ who had already been one of the seven secret producers of the project.

Lee Heart, the vocalist of Radio Killer, is a talented young artist with a powerful voice and a lot of charisma. At just 24 years old, Lee Heart has a solid background as an artist. She has been studying music ever since she was a child, she won several national and international musical contests and performed next to important names from the music industry, such as Black Eyed Peas.

With an impressive portfolio, Paul Damixie is Radio Killer's DJ. So far, he has performed next to Echoman, Hybrid, Andy Fletcher from Depeche Mode, Outwork, Camille Jones, NTFO etc, and released over 40 tracks with labels from UK, Italy, USA and Romania.

The two "Killers" soon released "Lonely heart", a single that reached the first places in charts from UK, France and Russia. The single was included in the BBC Radio One playlist, tagging Radio Killer as the first Romanian DJ project which managed this performance.

"Don't let the music end" was released in the fall of 2011 and sends out an interesting message: music is more than sound; music is color, love, special moments and the energy that comes with all of it.

Lee Heart and Paul Damixie continued the same colorful and dynamic musical approach with "Calling you", a song as simple as a love story. For Radio Killer, music means joy, happiness and freedom, as they prove in the video of "Is it love out there", that captures the hot atmosphere of this year's biggest dance festival in Romania, Liberty Parade, where neither more nor less than 70.000 people participated.

Radio Killer's musical path continues with "Middle of the night", a song that recreates the atmosphere around the craziest outdoor parties and makes you feel as if you're on vacation.
Read More
Available for airplay now
Login
with your radio station account to listen and to download tracks from this artist.
Or
sign up for free
.