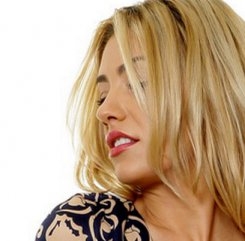 Biography
The pseudonym name of flirting: Misty

Mystery and fascination, water and fire, passion and craving this musical oxymoron will delight our eyes and ears this fall: Misty.

Misty - a new name in the music industry - brings back the warmth and smiles of the summer with her first single - 'Bang'. The song is an invitation to dance, perfect for a rainy autumn that seems to enjoy keeping us imprisoned in our homes.

About her mysterious name, Misty told us: 'Aliens , vampires, legends, secret societies - I've always been a fan of those sort of things! My friends are constantly telling me that I'm an enigma that they fail to solve. I'm always unpredictable and spontaneous and me life is a continuous mystery! 'Misty' represents me and is a very musical and feminine name', said the young artist.

'Bang' is a tasty cocktail of Europop, dance, a bit of synthpop, falvored with 80's beats, all packed with blunt lyrics and Misty's sensuous movements. The song avoids the dance anthems cliché trap through some smart edits. This electropop song is addictive while the chorus has a kind of ear-snagging hooks that will make you dance 'till dawn.
'The message is simple: 'Let's party!', added Misty .

Are you ready to be seduced?
Read More
Available for airplay now
Login
with your radio station account to listen and to download tracks from this artist.
Or
sign up for free
.