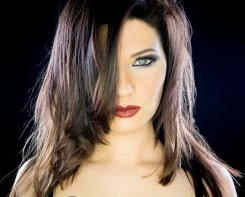 Biography
Maria Troisi was born in Agrigento on 5th June 1989.
As a child she discovered her keen love for music and singing, also thanks to her maternal grandmother, who was a professional singer. At nursery school, where she performed in various celebrations with a typically Sicilian repertoire, she was nicknamed "songbird". Maria's father, who had lived in England for many years, spoke to her in Englishwhen she was a child and, already at an early age, she showed a keen interest in this language.
Her first performance at a local singing festival took place in summer 2001: when she was only 12 years of age she sang "Luce" by Elisa, and she ranked first.
She continued her musical path studying singing at the best music schools in Sicily and taking part in both events and singing festivals, always ranking among the first (1st place at singing festival Nuovi Talenti in August 2007, 1st place at singing festival "Città di Dalia" in 2008, 1st place at festival Revolution in Ravanusa in September 2007 and in August 2010).
In 2011 Maria met Giuliano Boursier at a singing workshop. After listening to her in several working sessions, Giuliano decided to follow her artistically for the production of a recording project.
As a matter of fact Maria moved to the studios of Music Ahead in the province of Varese and she started a proper artistic preparation in all respects, on the one hand working on her unreleased project, on the other hand interpreting hundreds of covers, which permitted her to perform abroad in 2012 and 2013 , in clubs and five-star hotels, for her artistic growth.
The first track of the dance project to be released on Friday 7th June 2013 is "Never Fall in Love Again", more easily nicknamed "Rain", written and produced by Giuliano Boursier and by Andy Prinz. Several remixed versions of the song will be available.
Read More
Available for airplay now
Login
with your radio station account to listen and to download tracks from this artist.
Or
sign up for free
.