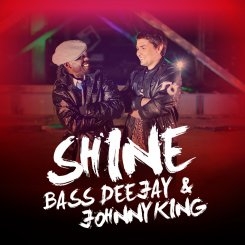 Bass Deejay & Johnny King
Moldova, Republic of
Biography
Bass Deejay & Johnny King are bringing us this autumn's anthem with a very vibrant sound that will set the clubs on fire.

Their single, "Shine", is also accompanied by a very sexy video which shows us that the real beauty lies beneath and every woman is entitled to feel sensual and to express her inner desires.

"The song's message is a positive one, it's about letting your feelings run wild and have a good time", has stated Bass Deejay.

The two artists added that they were inspired in writing this song by the power of a smile that can make youshine.

In 2005 Bass Deejay was awarded with the title "Grand Master Radio DJ" by the electronic music festival "Grand Master DJ". A year later he adds another trophy to his collection: "Best DJ Of November".

Although he mostly made remixes to other artists' songs, Bass Deejay wanted to make his own tunes. His first release was "Show me your feelings" (ft. Smally & Monica) which gained huge popularity in the East European area. In 2013, he released "Our love song" (ft. Tania Cerga) with a very inspiring video companion.

Johnny King's dedication and talent goes back to his origins in Congo. He is very fond of hip-hop and R'n'B and was inspired by artists such as Bob Marley, Peter Tosh, Jimmy Cliff or Alpha Blondy.

With this new song, "Shine" (ft. Johnny King), Bass Deejay wants to explore a new musical horizon. He is just at the beginning of this great journey that is to be continued soon with new amazing tunes.
Read More
Available for airplay now
Login
with your radio station account to listen and to download tracks from this artist.
Or
sign up for free
.