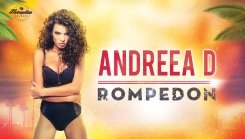 Biography
Andreea D had a natural affinity for music since she was a child, studying canto since she was 12 years of age. She began her rise at the age of 16 in Ploiesti with 2 songs created by a local composer.One of her most famous teachers is Crina Mardare. Once arrived in Bucharest she began a partnership with the Romanian band Cassa Loco releasing her first videoclip under her ex-stage name Leya of the hit "Esti senzatie" in a featuring with Mickey. She also becomes the first female MC in Romania, having sustained numerous shows throughout Romania under the name of MC LEYA. In 2010 she began singing with Sasha Lopez in the project named Sasha Lopez & Andreea D, releasing the fruits of their collaboration with the hit song "All my people" for witch they've also created a video clip. In 2011 she began the collaboration with Dj Sava releasing "Money Maker" and "Free". In summer 2012 she released her first solo song "So real" and after that were the hits "Magic Love", "It's Your Birthday". In 2014, new hit of Andreea D is " ROMPEDON ".
Read More
Available for airplay now
Login
with your radio station account to listen and to download tracks from this artist.
Or
sign up for free
.