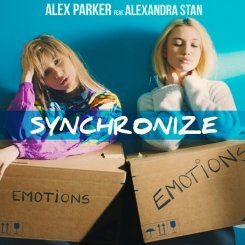 Biography
Alex Parker, the European artist described as a prodigy by peers and experienced musicians all over the world, is releasing a brand new single with world famous Alexandra Stan.

The two artists have synchronised their talent and passion for music and came up with "Synchronize", a song that will be easily included in playlists all over the world.

"Synchronize" is the anthem for the you only live once mantras, it's a song that fills the space with unique energy.

Even though "Synchronize" is Parker's second single he already has an impressive list of achievements to back him up.
He had his first contact with music when he was just 6 years old, and since then, he'sa been in a constant state of improvement and creation. Alex has developed his skills in sound design, music production and audio mastering, building his personal trademark touches.

Alex is being mentored by wizard Marius Moga, and is enjoying his master's trust and praises. Marius Moga, Ciprenko and Marius Mirica (Narcotic Sound) have all worked alongside Alex for his new single.

The collaboration with Alexandra Stan came after the two artists became friends a few years ago at a Music Summer camp held by DeMoga Music. They kept in touch since then and it was a matter of serendipity and synchronicity for Alexandra to hear the beats of the song and accept Alex Parker's proposal to collaborate with him.

The song is the perfect and universal soundtrack for all love stories existent. It is a song that spreads the message of acceptance and freedom amongst the public.

"Synchronize" is the first single from the upcoming EP Alex Parker is currently working on, planned to be released in the next months.

Celebrate the synchronicity of hearts in love with this new track from Alex and Alexandra!
Read More
Available for airplay now
Login
with your radio station account to listen and to download tracks from this artist.
Or
sign up for free
.