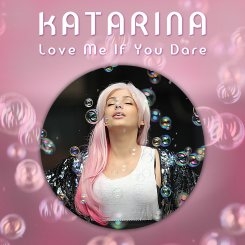 Biography
Katarina Baka is 16 years old and since she started singing and learning to play instruments, she never stopped wondering of new sound mixtures and exploring new musical paths. "Love Me If You Dare" is her debut single release and this is what she has to say about it:

"I know it can sound like a cliché, but this is really a dream came true", Katarina said. "I'm very happy to make my first steps as a grown up in the music industry accompanied by a great and reliable team", she added.

The first time she walked on a stage was when she was in kindergarden, but it was only in 2014 when she sang in a professional setup, at the Jazz Festival gala in Targu Mures, Romania. There she also had the honor to sing alongside the famous guitarist, Antal Pusztai.

She is currently a student at the most influential music high school in Romania, the George Enescu High school. In junior high he used to study classical guitar and since her freshman year she continues studying canto jazz.

Since an early age she participated at various music festivals and contests in Romania, where she always impressed both the members of the jury and the audience. At 13 years old, she proved she can be a complex musician by winning the second place at "The Little Guitarist Contest" and first place at the "Timeless Folk Contest", just to name two of the numerous awards and distinctions she's earned till now.

Some of the artists that have contributed the most at shaping her musical style represent various genres: Jessie J, Hozier, Nina Simone, Eric Clapton, John Newman, Bruno Mars, Joe Hisaishi and Kygo.
Read More
Available for airplay now
Login
with your radio station account to listen and to download tracks from this artist.
Or
sign up for free
.