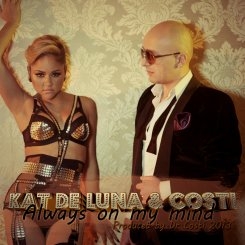 KAT DELUNA & COSTI
Romania
Biography
COSTI IONITA (Born January 14th 1978 in the city of Constanta, Romania) is a top Romanian music producer, singer and owner of the no.1 independent music label in Romania, Doctor Studio. In December 2011, Costi received a great news, according to which Shaggy's album, "Summer in Kingston", which was declared no.1 album in sales on iTunes on July 2011, was nominated to the Grammy Awards 2012 at "Best reggae album" section. Costi composed 2 songs for Shaggy's album: "Dame" (Shaggy ft Kat DeLuna) and "Fired Up" ( Pitbull ft Shaggy). Although the album didn't win, the nomination itself was huge for Costi, who was present in Los Angeles, at the Grammy Awards, on 12th of February 2012. This nomination made him the first Romanian producer with a Grammy Nomination.
COSTI'S MAIN OBJECTIVE: to produce positive music for people worldwide, bring them happiness through its music and promote Romania internationally, in the best way that he can.
COSTI'S HITS:
COSTI'S INTERNATIONAL HITS: I WANNA (Sahara ft Shaggy & Bob Sinclar), TYALEE (Sahara ft Buppy Brown), CHAMPAGNE (Sahara ft Shaggy), MINE (Sahara ft Mario Winans), MY STORY (Celia), IS IT LOVE (Celia ft Kaye Styles), DAME (Shaggy ft Kat DeLuna), FIRED UP (Pitbull ft Shaggy), LOVE 2 PARTY (Celia ft Mohombi), ALWAYS ON MY MIND (Kat DeLuna & Costi).
COSTI'S BALKANIC HITS: MEN SI TARSIL (Andrea ft Azis), UPOTREBENA (Andrea ft Costi), NAI DOBRIA (Maria), S TEB DA BADEM PAK (Andrea), DAI JEGA (Maria), NEBLAGODAREN (Andrea), ZAKONTAKTI (Cvetelina Yaneva), VLEZ ZEG (Cvetelina Yaneva & Ionut Cercel), Haide Opa (Andrea), TI POZNA LI ME (Maria), KAK TI STOI (Preslava), NA EKS (Andrea ft Kristali), DAVAI TISI (Maria), IDEMO NA SVE (Ana Kokic ft Costi), STRASNO TI STOJIM (Nikol Bulat), DJ-Q ME IZDADE (Galena), BROI ME (Cvetelina Yaneva ft Rida Al Abdullah), MRASNI PROMISLI (Maria), CISTO ILI S LED (Maria), BONBONI (Cvetelina Yaneva), CHIK CHIK (Galena ft Costi), TANAKA (Preslava ft Costi), RUMBA (Viki Miljkovic ft Costi), PRODOBNO (Trayana Neshto) and many more to come.

COSTI'S ACTIVITY AS PRODUCER
Costi began the year 2013 with a work-trip to Thailand, as he was invited to appear in Shahzoda's video, a very known Uzbek singer, for whom he produced a brand new song. The video will be released soon.
At the end of January 2013, Costi was also invited to appear in Maria's video, a top singer from Bulgaria, for whom he also produced a brand new song, a future hit in the Balkans.
The latest of Costi's international collaboration is the one with the famous Latin singer Kat deLuna, with whom he recorded the song "Always on my mind" in Los Angeles. The video was made in Romania and was already released with huge success worldwide.
In May 2012, all the attention of the Romanian media was focused on Costi Ionita, as the song that he produced for the Romanian band Mandinga, represented Romania at Eurovision Song Contest from Baku (Azerbaijan) between 22-26th of May 2012. The song
called "Zaleilah" had a huge impact on the Romanian audience, as well as international. The song was requested for licensing in 2 different countries each day, since the winning day, when at the end of the contest, Romania was placed on the 12th place.

Also, Costi announced at the end of April 2012, the beginning of the collaboration with the famous artist Mohombi, with whom Costi recorded a featuring with Celia, one of the most famous Romanian singers. The song is called "Love 2 Party" and it was released worldwide. The song promotes the Romanian seaside as a touristic attraction for the foreign people.
At the beginning of January 2012, Costi was present at "Tonight Show with Jay Leno", the most popular TV show in the USA. There, Shaggy performed live alongside Kat DeLuna the song "Dame", composed by the Romanian Costi Ionita. The live performance made in a few hours the tour of the world and it was Shaggy's hit.
In November 2011, Costi Ionita produced a new hit for the bulgarian singer Cvetelina Yaneva featuring the arab singer Rida Al Abdullh, entering this way the arabic music industry for the second time. The song was called "Broi me" and it was a big hit in Bulgaria.
But Costi's success didn't stop. He also produced "Is it love", a featuring between Celia and Kaye Styles (the producer of the soundtrack for the TV series Prison Break). The video of the song was considered at that time the most expensive video from the Eastern Europe.
Read More
Available for airplay now
Always on my mind
Adult Contemporary
Electronic
Pop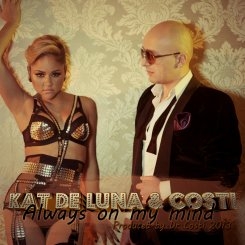 1.

Always on my mind (Radio Edit)

2.

Always on my mind (Kizomba Radio Edit)