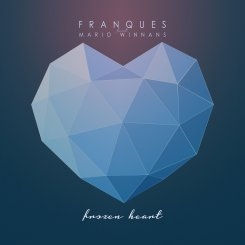 FRANQUES feat. Mario Winans
United States
Biography
World renowned artists Mario Winans, Franques and Bogdan Ioan united to create and release a song that in spite of it's cold name "Frozen Heart" will melt the international radio stations with their hot message and beats this summer!
The single tell the story of a lost love. When you are unable to see the reality and everything around you becomes cold and empty. Even if you find love again, your heart refuses to melt down again because you are afraid you might get hurt.
MARIO WINANSis an R&B producer, singer, songwriter, and multi-instrumentalist best known for his 2004 song "I Don't Wanna Know", number 2 in the United States and number 1 in the United Kingdom. Winans also won a Grammy Award for Best Gospel Performancefor co-writing CeCe Winans'song "Pray".
He produced songs for R. Kelly, P. Diddy, Destiny's Child, Mary J.Blige, Whitney Houston, Jennifer Lopez, Ice Cube, Tamia, Eminem, Brian McKnight, The Notorious B.I.G, Lil' Kim, Faith Evans, Loon, Black Rob and 112.
Mario produced Puff Daddy's newest single: "You Can Be My Lover" feat. Ty Dolla $ign and Pusha T's most recent single "Crutches, Crosses, Caskets" is the announcement of the Bad Boy Family Reunion Tour where Mario is appearing on all 25 dates across the United States.
FRANQUESis the DJ and producer who opened acts for Dj Antoine, Remedy, Jamie Lewis, Plastic Funk. His songs are welcomed worldwide, his last production was featuring Fatman Scoop and Tuna (one of the best singers from Kosovo). Living for the passion of music, he enjoys playing in clubs around Europe and spending his time in studio creating new sounds and beats.
BOGDAN IOANis the ghost co-producer for all of the Franques releases. He produced for a lot of romanian and international artists. His last production in Romania was the national song for Romanian football team: "Eu Sunt 12".
After moving to Switzerland, Bogdan founded his own label and starteed working with a lot of international artists, he collaborates with producers and songwriters from Holland, Germany, States and Japan. At the moment he is producing together with Mario Winans songs for his upcoming album and Trevor Jackson's.
Read More
Available for airplay now
Login
with your radio station account to listen and to download tracks from this artist.
Or
sign up for free
.