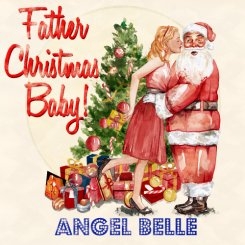 Biography
Father Christmas Baby
The Vision
What ever happened to the classic Christmas single? Fed up with waiting for the next Slade, Wizard, or even Darkness to appear, I decided to do it myself & make the sort of Christmas track that people would look forward to hearing every year.
Introducing Father Christmas Baby by Angel Belle, a throwback to the good old fashioned Christmas songs of the past; a truly happy holiday sound that evokes an instant nostalgia. Originally recorded in Northampton in 2013, Father Christmas Baby was re-mixed and re-mastered in 2014 at Platform Studios in Reading. The original version received local BBC Radio play and was well received, but this version is vastly superior! Available to download from November 30th.
The Team
William Johnston - Writer/Composer/Executive Producer. "Don't moan about what's out there unless you're prepared to try and do better." Will realised that if he wasn't part of the solution of resurrecting the classic Christmas song, he was part of the problem and that just wouldn't do. So he wrote the song and got it made.
Caroline Fenna – Vocals. As well as having West End success in Footloose, Caroline has appeared as a solo artist at Jazz venues in New Orleans, Switzerland, Edinburgh and Dubai and supported UK rapper Example and drum & bass artist LTJ Bukem. She has recently been overseeing the choreography for '80's icon and national treasure, Sinitta.
Adam Gammage – Drums & Percussion. A highly accomplished drummer and percussionist, Adam has appeared live and on TV all over the world. He has toured globally with The Hours (supporting Kasabian and U2) & more recently with Rebecca Fergusson (UK X-Factor runner Up 2010), Sparkadia and Baxter Dury.
Stuart Dixon – Guitar/Studio Production. Stuart is a successful blues guitarist who's toured worldwide with acts including Geno Washington, Marcus Malone, and Never The Bride. He's also a dab hand at production and is currently working closely with soul singer/song writer, Dani Wilde.
Greg Coulson– Keyboard. Greg has been the keyboard maestro of choice for the legendary two-tone band The Selecter since he was 19, touring with them across Europe, America and Australia. Now 22, 2014 has seen the release of his debut solo album.
Alan Whetton – Sax. Alan has lived his life mastering the saxophone and is truly inspired. His career has included playing with such diverse talents as Dexy's Midnight Runners, Cliff Richard, Howard Jones, Shakin' Stevens, The Blues Band and The Manfreds.
Luke Palmer – Bass. Luke is a superb bass player, most recently with The Cliff Brown Band.
Read More
Available for airplay now
Login
with your radio station account to listen and to download tracks from this artist.
Or
sign up for free
.