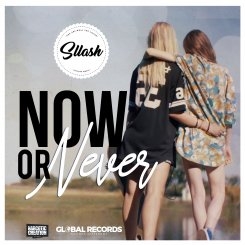 Biography
A new release at Global Records, a song called "Now or Never" by Sllash, a talented Romanian DJ and producer. The song is composed by Marius Mirica (Narcotic Sound), Bogdan Pauna (Sllash) and Diana Rubinescu and produced, mixed and mastered at Narcotic Creation Studio.

The voice belongs to Diana Rubinesc, a young talented artist and songwriter from Romania.

Sllash became known from the duo project named Sllash & Doppe. As one talented, creative, original and ingenious producer, he decided to take it on his own and start his solo project called Sllash.

His remixes for 'Let Me Love You' (Mario) with more than 6 million hits on YouTube and Soundcloud, 'Lady' (Modjo), 'I Need Your Love' (Ellie Goulding) and 'Miss U Less, See U More' (Faithless) enjoyed a great success as many important DJ's from all around the world featured them in their sets.

Global Records is one of the most important labels in Romania which represents top artists such as INNA, Antonia, Carla's Dreams, Lariss, Nicoleta Nuca, GJAN, Alexandra Stan, Karmen, Lucia, Mira, Lori Ciobotaru, Yanka, Vanotek, Ivana, Runa.
Read More
Available for airplay now
Login
with your radio station account to listen and to download tracks from this artist.
Or
sign up for free
.