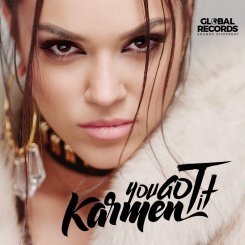 Biography
KARMEN returns with a brand new single entitled "You got It", with a different sound then the songs she released so far.
"You Got It" is composed by KARMEN, Achi Petre, Ira, Alex Caliman and produced by Vlad Lucan and now it's out with official video.
The video filming took place in Bucharest, under the direction of Bogdan Daragiu, director and DoP, who has worked with artists like INNA, Alexandra Stan, Nicoleta Nuca, Corina, Delia, Carla's Dreams and many more.
For hairstyling KARMEN collaborated with Adonis Enache, the make-up was realized by Andra Manea and Dana Petrina, styling by Daria Georgescu, and the choreography was done by Cristian Miron.
"The video of the song "You got It" made by Bogdan Daragiu brings to life its state, the theme and the keywords of the song being "party" and "freedom", said the artist.
Since 2017, KARMEN is an ATOM and Global Records artist.
"ATOM and Global Records are my second family, here I found the perfect team, where I work with experienced people and they who know how to evaluate and capitalize an artist with potential. "You Got It" is a song that I really like, sounds different and shape the style in which I really find myself. "said KARMEN.
KARMEN (Silvia Claudia Simionescu) made known to the Romanian public with her previous single entitled"Domino". She is a student at "Dinu Lipatti" College of Arts from Romania, and she is passionate about music and acting, dancing and playing the flute and she wants to develop her music composition side (songwriting).
Global Records is one of the main labels from Romania, representing artists like INNA, Antonia, Lariss, Nicoleta Nuca, GJAN, Alexandra Stan, Carla's Dreams, Lucia, Mira, Lori, Yanka, Vanotek, Ivana.
Read More
Available for airplay now
Login
with your radio station account to listen and to download tracks from this artist.
Or
sign up for free
.