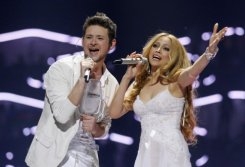 Ell and Nikki winners Eurovision 2011
Azerbaijan
Biography
Azebaijani participants Ell and Nikki (Eldar Gasimov & Nigar Jamal) have won the Eurovision Song Contest 2011 in Dusseldorf with their romantic ballad "Running Scared".
Nigar Jamal was born in Baku. She began to sing at the age of 5 in a children's band. Then there was a music school in piano class. At the age of 16, she was recognized in the popular Azerbaijani vocal competition «Pöhrə». Despite success, Nigar did not venture to make music her profession. Instead, she went for economics and management studies at the Baku Khazar University.

The dream to represent Azerbaijan in Eurovision has been following Nigar since 2000 - when Russian singer Alsu, extremely popular in Azerbaijan, took 2nd place in the Grand Final. That gave Nigar hope that one day her performance at Eurovision may become true. However, it was a long shot – Azerbaijan debuted in ESC only in 2008. By that time Nigar has met her future husband Luke and moved to London. She dedicated herself to family and to raising her beloved daughters - Jasmin and Saida.

Last autumn, Nigar has revived her cherished dream. She returned to Baku and challenged herself to take part in the National Eurovision selection. Nigar won and was announced one of two representatives from Azerbaijan in the ESC 2011.

Eldar Gasimov was born in Baku in 1989. Since childhood, Eldar repeatedly took part in national and international vocal competitions. He has graduated from the music school in piano class with distinctions. Twice – in 2004 and 2008 – Eldar won a scholarship to study in Germany as an exchange student. In Germany, besides regular curriculum, he studied vocals and acting.

In 2010 Eldar has graduated from the Baku Slavic University with a degree in international relations. He currently continues his studies AT the master's program. Just like Nikki, Eldar has been dreaming to perform on the Eurovision stage since 2000. He has been passionately following the Contest.

Last autumn, Eldar has decided to test fortune in the National Eurovision selection. He was one of 77 contenders to represent Azerbaijan in Eurovision 2011. After preliminary castings and 7 pre-selection shows, Eldar has become one of the two winners and part of the duo Eldar&Nigar.
Read More
Available for airplay now
Login
with your radio station account to listen and to download tracks from this artist.
Or
sign up for free
.