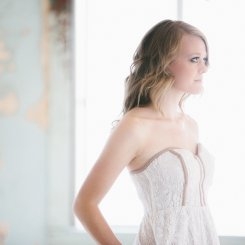 Candice Russell
United States
Biography
There are those who sing and then there are those who were made to sing. Candice Russell was made to sing. She is a 21 year old pop singer and songwriter who has just released her debut album called So Much More. Her seemingly effortless, rich, pure vocal tone, her smooth vocal runs and the passion that comes through in her voice, make for an extremely satisfying listening experience. As one label executive said, "She is very easy on the ears."
Candice's songwriting is real, honest, and vulnerable, yet she is positive, determined and confident. She knows who she is, but she doesn't see herself as above others. She sings, writes and performs to make others feel good about themselves, not to make others feel good about her. "I want to reach people with music that I have written and hopefully uplift and help them," she says. All of the songs on this new album are original and from the context of her own real life experiences.
The artists that have impacted Candice are Taylor Swift, Kelly Clarkson, Paramore, Colbie Caillat and Carrie Underwood. The combination of these artists and what she has learned from her personal mentors and coaches has helped Candice find a unique blend that has resulted in her own cool and appealing sound.
Candice grew up singing in the church. Her mom was amazed when she first heard Candice singing with perfect pitch when she was just one year old. Her poise as a child singing in the choir and her solos in high school caused many to say this girl has the "IT" factor.
At the age of sixteen, Candice won a state wide singer-songwriting contest at the Oregon Fine Arts Festival. In 2012, she went to Hollywood on American Idol, Season 11, as a teenager. She also made it into the showcase final as a singer-songwriter at AMTC's Shine event in Orlando in 2012.
Soon after her time on American Idol, Candice met Dave Lubben, who is a veteran artist, songwriter and producer in Portland, Oregon. Among his many credits is producing the band Kutless. Candice collaborated with Dave Lubben and her brother, Aaron Russell (who also assisted in production), to write all ten of the new and original songs on this project. This album was recorded using top studio musicians from Los Angeles, Nashville and Portland. The results have yielded a high quality, radio ready-album.
With the release of this new album entitled "So Much More," she had her first number one song on Indiecharts.com with the song "Good Luck With That," and was also featured on the mega music website Reverbnation. Her songs are also currently playing on a number of Internet and FM radio stations including the Live365 Radio Network.
Candice's ability to transfer what is in her heart into art flowing through her fingers to the guitar and resonating through her voice to release flawless, passionate vocals is not at all typical. The lyrics on her album are thoughtful and deep, but also smart, witty and just plain fun at times. All this makes her an extremely intriguing artist to listen to and follow. Check out Candice's website at candicerussell.com, where you can find her CD, as well as digital downloads, and join all her socials (Twitter, Facebook, Instagram, Youtube and Pinterest). The album will be a world-wide digital release on July 30, 2013. You can find all the songs at iTunes, Amazon and digital stores everywhere.
Other fun and interesting facts about Candice:
• She worked as a commercial model in Portland, Oregon.
• She was a very good athlete in high school, where she led her soccer team in scoring and still holds the record in girls track for the long and triple jumps.
• Her favorite thing is hanging out with her friends.
• She loves to laugh.
• She feels deep emotion for people who are hurting.
• She has a heart to help young women across the world to be rescued from sex-trafficking.
• The guitar she plays in concerts was one her grandpa owned and played before he gave it to her.
Read More
Available for airplay now
Login
with your radio station account to listen and to download tracks from this artist.
Or
sign up for free
.