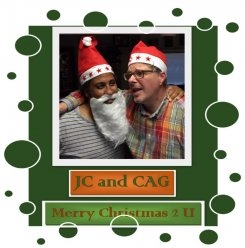 Biography
JC comes from the Netherlands and is living in the middle of Holland, he has no singing background at all. In everyday life he has been working with the police and as town Centre Manager of his own home. He also has his own radio station on the internet. JC lived in Italy in 1980 in Perinaldo, a small town near Ventimiglia. He worked there for a radio station for Dutch tourists (Radio Europa '80). It was there when he came in contact for the first time with Italian Music and that interest has never left him.
Back in the Netherlands Italian charts kept JC's interests. But because there was no internet that time JC asked people who were going for a holiday to Italy to bring back all the new Italian singles, albums, (and later on CD's) to the Netherlands that they could find. Also the San Remo song contest and the Italian entries for the Eurovision Song Contest were given extra attention by JC as well, especially the San Remo submission from the year 1987 Ricchi e Poveri with Canzone d' amore. When JC heard that song for the first time he thought ... This is the song I wanna sing myself someday with totally different lyrics. Now, 29 years later, the moment is finally here. And the song know as "Canzone d' amore" is suddenly "Merry Christmas 2 U".
JC is accompanied on this song by CAG, a long time friend from the United States of America. CAG is a professional singer and worked for Cruise Lines and had his own weekly entertainment show on board one of their ships.
CAG is originally from Philadelphia, Pennsylvania but is currently living in Huntersville, North Carolina. CAG has worked for the cruise line industry for 27 years and has been entertaining crowds all over the world since the mid 80's. Without any formal musical training CAG is humbled to have this gift and to be in a position professionally to share it with others. CAG's relationship with JC goes back to his first cruise where they met and became friends for life. It wasn't until years later that they began to play around with singing together. During a recent visit to the Netherlands in june 2016 JC asked CAG to accompany him on this song "Merry Christmas 2 U" that he had written the lyrics for many years ago. And what fun was that collaborating on this song together. The song was produced with the hope that it would bring holiday joy to all who hear it and remember the CAG songs they sang as children.
Because, in view of the physical distance, we're not always be able to act together is there a home-made "winter" video clip recorded in the summer of this year at a temperature of 29 degrees celsius in support of "Merry Christmas 2 U"!
Read More
Available for airplay now
Login
with your radio station account to listen and to download tracks from this artist.
Or
sign up for free
.