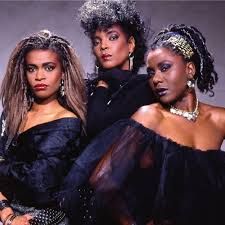 Biography
THE HIGH-SPIRITED GIRL GROUP MAITAI BURST ON THE INTERNATIONAL MUSIC SCENE IN THE MID-'80S WITH A SERIES OF INFECTIOUS AND MASSIVELY SUCCESSFUL DANCE-POP HITS PRODUCED IN THE NETHERLANDS, INCLUDING "HISTORY," "FEMALE INTUITION" AND "BODY AND SOUL."
The group was originally comprised of singers Jetty (Harriette) Weels, Mildred Douglas and Carolien de Windt, all born in Suriname, Antilles. After a few years recording and performing in the Netherlands with local success, their 1984 single "History" (taken from their debut album Mai Tai) gained momentum among DJs on the world club and radio circuit. The track caught the ear of Virgin Records' head Richard Branson, who signed the track and the ladies to his hugely popular international label. It didn't take long for the song to become a tremendous hit in the UK, reaching the Top 10 of the country's pop chart, the Top 40 across Europe and a #3 postion on Billboard's US dance chart in 1985.

The powerful follow-up single "Female Intuition" was nearly as big, and subsequent song releases kept the girls popular and in high demand throughout Europe for the remainder of the decade.

After disbanding in the late '80s, Carolien and Jetty reformed MaiTai for twenty-first century audiences, touring extensively throughout Europe, the Mid-East and South America. In 2014 they recorded the hit single "Baby I Want You Back" and released "One Nite Man" the following year. As as one of the most popular female groups of the '80s, MaiTai continues to deliver their incomparable signature energy and style in every performance.

Mai Tai - Today
Today Mai Tai is formed by the original artists; Harriette Weels and Caroline de Windt. The ladies are supported by a formidable ensemble of talented artists; Rowena Oemar, Nancy Zefo and Ronda Rensch who bring Back the Music to any occasion.

Read More
Available for airplay now
Login
with your radio station account to listen and to download tracks from this artist.
Or
sign up for free
.