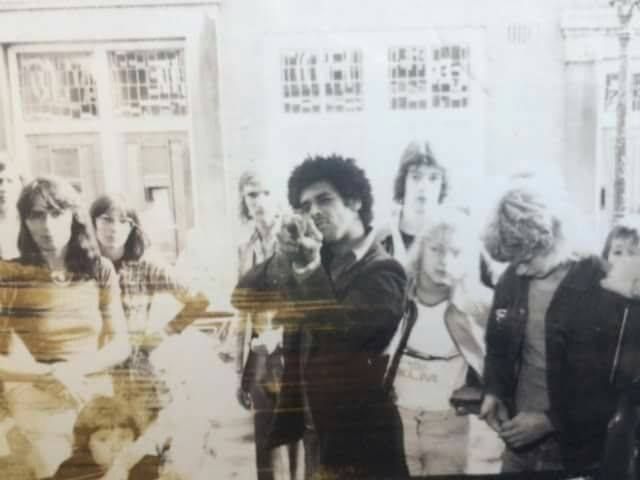 I-ScreaM Music
Record label
United Kingdom
Story

By going to America the first time in in my life in 1967 visiting family in NY – Chicago & Detroit arriving in NY at JFK on my way to my cousin one of the first big xpress-way-signs said Rockaway Blvd, which did strike me as a very kool and appropriate name to use in the future as with anything to do with Music.
Hence later: The Rockaway Organization:Production - Publishing - Management - Record Label I-ScreaM Music as Division of.

It was in 1976/77 that first opportunity came about when I was invited by a friend-musician/Bass-player Paul Bachmeyer to listen to a demo he had done with a friend, Ton Mathijssen who liked all that (by the way recorded on-a-4track then State-of-Art Revox) Motown/Chuck-Berry Style Guitar play&riffs.
I absolutely liked what they had done so we decided to do a studio recording demo, this time with a drummer, Kim Hayworth an Englishman in Amsterdam who I knew. The demo turned out Tops so I made a connection with Lee Jackson-Dance Co. with the idea to possibly form a Girl-group.
Lee Jackson, however, tipped me about an American Singer-Songwriter, Omar Dupree - from Milwaukee WI - who was in Germany at the time but to be expected to come to Amsterdam. Omar was breaking away from his group Vic Pits & the Cheaters to go solo. Ten days later he arrived in A'dam, within 24hrs I was able to introduce him to Paul & Ton, to check the demo-track. Omar turned out a wizard of a Songwriter by making lyrics on the spot within about 20 minutes titled: Boogieman and a voice that is reminiscent of Donny Hathaway. This gave us the opportunity to create a form of Street concept, featuring Artists, so the Street became Rockaway Blvd featuring Omar Dupree & Kathy Jackson, daughter of Lee Jackson.
Boogie man was picked up by Dutch Phillips Label Phonogram and very quickly became a Top Ten Hit in the Benelux which happened to be my First Hit in '77 and further introduction into the music industry.

1978 – 1979 I got involved in a direct collaboration with a 16-track Studio in Amsterdam, to be named by me - I-ScreaM Music Studio - where late '79 I was introduced by Lilian-Day-Jackson to the Funky-Disco-R&B-Soul-group "Spargo" that she had joined as Lead-Singer.
Spargo by then had already done the Live-Circuit in the Netherlands twice over so they had an extended repertoire and a great following already.
Around Nov./Dec '79 Lilian & I met at I-ScreaM Music Studio, she introduced me to her colleague Lead-Singer-Songwriter-Keyboard-player: Ellert Driessen and presented a string of demo's to see whether there was interest at I-ScreaM Music Record Label.
The demo's presented, about 5 tunes, were incredibly catchy, I immediately picked out the track "You & ME" and we agreed to take it to the next level by producing it in a 24 track Studio.
As I had a great connection with the A&R mngr. Edo Peek of Inelco, an independent distributor, to whom I send a demo only of "You & Me" with the message "More coming and available of this group!"
His "Enthusiasm" by responding within 24hrs. and to please strike a deal a.s.a.p. in order to release a.s.a.p. obviously was music in my ears!!

Within a matter of weeks, I had the recording production finished, delivered it to Edo/Inelco with the artwork and had the official release on Jan. 20th. 1980.
5 weeks later "You & Me" entered the Charts in the Benelux and a few weeks later a NO.1 Hit for 5 weeks that ultimately resulted in Gold-&-Platina, whereafter it was released under license in Italy - Greece - Spain & Portugal – Germany/Austria/Switzerland + 5 Scandinavian countries and WEA for South America.
In most of these countries, it charted No. 1 Top Hit as well. In Italy Spargo was nominated the Best foreign Group and was awarded with the Golden Gondola, released by Baby Records.


Approximately by the end of the summer of '80 Spargo's second single "Head Up to the Sky" was released, almost immediately hit the charts in order to steam up to a No. 1 Hit within weeks again followed by various of the European countries too.
Towards October, with a winter&Xmas release in mind I-ScreaM Music was planning with Inelco the third release, which initially was going to be a track called "One Nite Affair", however when I got to hear a demo titled "Sometimes" I immediately stopped all the promo to rename and release this song instead. Not necessarily without doubts and possible little obstructions, but I'm and was the Label and final decision-maker, which proofed the right decision, as it became the 3rd single and carrier for 3-to-4months for the 1st. LP/Album "Good Time Spirit" and charted No 1 and Top 3 Hits in various European countries again, selling hundreds-of-thousands of LP's/Albums.
So after the winter&Xmas time we are into 1981 . . . . . . . . . .time for the fourth release, and this time, time for: "One Nite Affair", bang!! . . . . . . simultaneously two singles carrying the LP/Album as "One Nite Affair" also Hit the charts instantly, and before we knew it, all over the place a No. 1 again!!
Thereafter it was time to prepare for the 2nd. LP/Album "GO" followed by a single "Just or You" and lots of live gigs that year and release of "GO" and single. This was all happening throughout 1981 & 1982.

The Label I-ScreaM Music had also started new productions with featuring Artists under the
- Rockaway Blvd. - Street featuring concept exposure with various Top Ten Hit successes following.

Due to the demise of Inelco by bankrupty it was time to reconsider my situation and chose to go to England, which initially didn't work out as hoped and expected, so I picked up travel again, that took me to Australia - Italy - America - Guatamala - Antiqua . . . .etc etc.

Just a few years ago, approx. 2012 I decided again to re-start I-ScreaM Music Studio & Label here in Birmingham - England

So now Sept/Oct 2018 I-ScreaM Music proudly presents the realeas and first single "Your Hair is the Color" by a new & Unique Artist - Cinnamon Denise - Vocalist -Singer-Songwriter & even Audio Engineer.

Read More