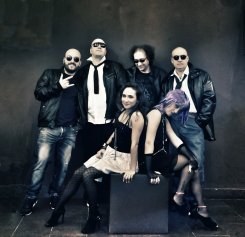 Biography
Historycal italian garage-punk band formed in 1986 by Fabio Vinciguerra, who write all music and lyrics.
The band changed members several times.
They appeared in an EMI compilation in 1997 and their first CD appeared only in 1999 with some bonus tracks taken from a demo released in 1987.
In 2013 they made a new digital release "Votate me", pop/garage oriented.
Next release "La revolution bourgeoise" will be more punkish, aggressive, against the power, the enstablishment and it'll be a physical CD too.
Read More
Available for airplay now
Login
with your radio station account to listen and to download tracks from this artist.
Or
sign up for free
.